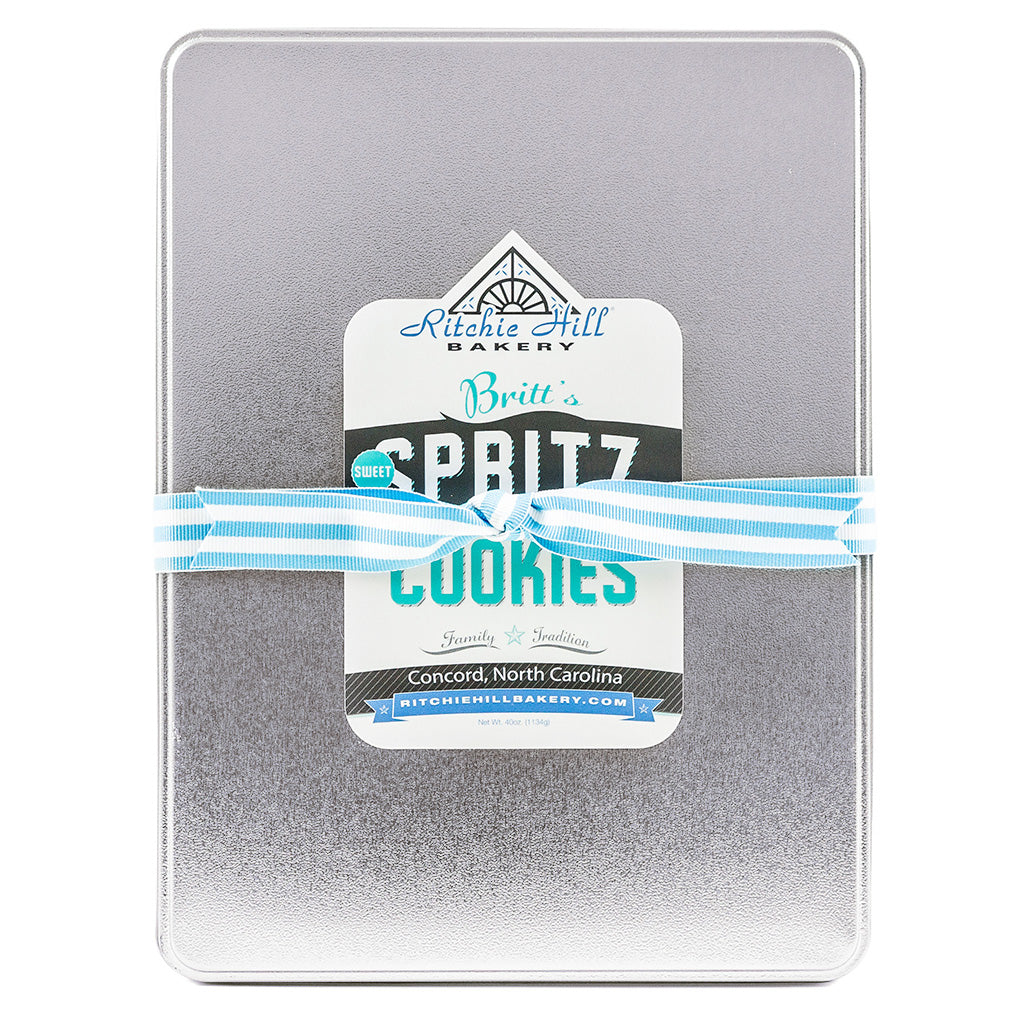 Britt's Spritz Cookies | Family Size (40 oz)
Swedish shortbread spritz cookie straws

Britt's Spritz Cookies have the nostalgic taste and texture of a shortbread cookie − but with a touch of almond, a hint of Nordic spice and a lingering sweetness that makes them a simply unforgettable spritz.
Our recipe is a family tradition that originated from the Swedish side of our family. Grandmother Britt Elizabeth Alm grew up on a farm in Trollhatten, Sweden, where she perfected her signature spritz cookies while baking treats for her eight brothers and sisters.
A time-honored family tradition made for sharing

Today, our straw-shaped Swedish shortbread spritz cookies are still made in small batches by our family, using the same recipe that has been passed down for generations.

The 40 oz Family Size is perfect for parties, a week at the beach or a holiday crowd. Approximately 32 dozen, two-inch spritz cookies are nestled in a lovely, reusable tin.
Size: Our 40-oz Family Size tin holds a whopping 2½ lbs of spritz cookies and serves up to 40!
Storage: Their wonderful, tender crispness will stay fresh for three months without refrigeration. (Containers should be tightly closed after opening, but don't need to be refrigerated, so they're perfect for snacking!)

Shipping: We ship Britt's Spritz Cookies from our Concord, North Carolina bakery via UPS Ground (within the Continental U.S.). We expect delivery in 5-7 business days. 
Local to Concord, NC? Would you rather pick up your order? Just give us a call at (704) 785-4443 and schedule a time to stop by The Old Creamery historic building in downtown Concord. (Please note, we require a two-day lead time on local pickup orders.)